Occasionally, I get something stuck in my head. Here's my way of getting it out . . .
You know, sometimes we really think we're something. We tend to think that, because we've been "pretty good" all our lives, we're not really in need of redemption. Oh, sure, we'd never admit that, but that's kinda the way we seem to think. But if you really stop and take a look at yourself sometime; at all the things that you've done that you regret, you might see a different picture. All those things might not seem so bad at first; everyone makes mistakes, right? But, then, look at what those "bad habits" cost. Look at that man hanging, naked and bleeding, on a cross. See the blood oozing from His open wounds. Hear the pained and labored breathing. Smell the stench of death, and then, realize that that's exactly what your sin looks like. That's exactly how it smells. It smells like death. In fact, it is death. It cost Someone His life. When you look at it that way, then you begin to realize what you don't have, and, most importantly, what you've been given. The Bible tells us that God so loved the world that He came to save us. He came to save us, as twisted, dirty, and messed-up as we are. He came to make us new. So, the key to grasping what we've been given is first understanding what we don't have. But, we shouldn't let the shame and regret from that old stuff that we did control us. All that shame is gone now; nailed on the cross with Jesus. So, extend the same mercy and grace to yourself that God gave to you, accept who you are in Him now, and enjoy the view from this side of grace.
"For the law was given through Moses, but God's unfailing love and faithfulness came through Jesus Christ." John 1:17
Powered by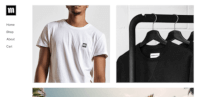 Create your own unique website with customizable templates.