Occasionally, I get something stuck in my head. Here's my way of getting it out . . .
Today is Good Friday. All around the world, people commemorate the death of God. There are poems read, plays performed, songs played, and prayers read. Everyone is doing something to remember the significance of this day. However, no matter what is done, nothing will really do that. Nothing will ever give us the same idea of how it felt to watch God die. There, hanging naked for all the world to see, was God. No poem, song, play, or prayer can ever capture that. They were never meant to. However, when I think today of Jesus and how He died, I remember that it was my sin that held Him there. Now, we say that in church as a kind of colloquialism, but none of us really mean it. We all think we're pretty good people down inside. But I know that today, my nasty, sick, and perverted heart was once again forced into my face. Today, I am forced to hear the screams, see the blood, and smell the sweat. And in all this, I see my dark heart and my sin. I really see myself for the hopeless wreck that I am. And I realize that every time I sin, I drive those nails deeper. It reminds me that I have murdered God, and that every time I presume on His grace, I am showing just how worthless I think His sacrifice is.

Today reminds of my sin, but also my redemption. It reminds me that there is hope in the darkest of times. On this day, I am reminded that I don't live in a world of happy endings. But maybe that's not such a bad thing. Because with every end, there comes a new beginning.

"He was despised and rejected - a man of sorrows, acquainted with deepest grief." Isaiah 53:3
Powered by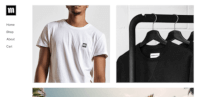 Create your own unique website with customizable templates.