Occasionally, I get something stuck in my head. Here's my way of getting it out . . .
The rain poured on the canvas roof of the tent, drowning out the voice of the pastor. The cold wind whipped around the tent flaps, leaving a chill in its wake. I stood about 15 feet from the grave; that solemn hole that marked the end of so much love and life. I watched the tears trace their way down so many faces, marking the deepest anguish of a human soul. Death seems so final, so wrong. You would think we'd be used to it by now, but we never seem to be. No matter how hard we try, we just can't begin to believe that it all ends in a wooden box. There must be some point to this. There must be some purpose to it all.

We desperately try to avoid pain. We'll do almost anything to stay far from its icy grip. And yet, it's all around us every day. It's in our workplaces, our schools, our churches, and even our homes. There are so many broken people. There are so many cracked and bleeding souls. There are too many question marks in this world. But, as Christians, we believe that God is in control of it all. We believe that it is His power that holds the world together, and that He has a plan for every life. But, sometimes the world doesn't seem to fit that. Sometimes, it seems like God might not be in control at all. Or, even if He is, maybe He just doesn't care. So, we make up useless "answers" to comfort those in pain, but we're really just trying to comfort ourselves. "God has a plan for you." "The Lord will make a way." "We wouldn't wish her back." These phrases make their way through every hospital waiting room and graveside service, rubbing salt into the wounds of the soul. Yes, we know that God is in control. Yes, we know that they are in a better place, but that doesn't heal the cracks in our hearts.

The Bible says that God works everything together for good, but I think we completely misinterpret that verse sometimes. We think that this means that God will essentially make a way through the pain for us to be happy, and that we just need to "grin and bear it" until He does. We cry out to God, asking Him to release us from the pain. We just want the darkness to end. And yet, in Romans 8, Paul paints a different picture from the one that we often have in our minds. "I consider that our present sufferings are not worth comparing with the glory that will be revealed in us. For the creation waits in eager expectation for the children of God to be revealed. For the creation was subjected to frustration, not by its own choice, but by the will of the one who subjected it, in hope that the creation itself will be liberated from its bondage to decay and brought into the freedom and glory of the children of God." (Romans 8:18-21) I used to think that this verse was simply talking about the glory that will be ours one day when we cross into the Kingdom of Life. However, while I think it is referencing that, I don't believe the meaning ends quite there. Notice that it says "the glory that will be revealed in us." It doesn't say "the glory that will be revealed to us." What does this mean? How can these troubles we face bring about glory? How can this darkness be a good thing?

"During the days of Jesus' life on earth, he offered up prayers and petitions with fervent cries and tears to the one who could save him from death, and he was heard because of his reverent submission. Son though he was, he learned obedience from what he suffered and, once made perfect, he became the source of eternal salvation for all who obey him." (Hebrews 5:7-9) After Jesus was laid in the tomb, His followers thought that the end had come. They thought it was simply a tragic ending, and that another zealot had finally come face to face with Rome, and he had been defeated. But we know the ending. We know that Jesus didn't stay in the tomb. We know that He walked out three days later and that, by His life, He gave life to us all. But none of that would've happened if it hadn't been for the pain. The greatest act of redemption in history was the direct result of the deepest depravity of this broken world. The power of redemption was not found in the splendor of Jesus displayed in the resurrection, it was found in the anguish on the cross. The true glory of redemption was not found in the resurrection, it was found in the cross. It wasn't just found in the pain, it was the pain. The true miracle was the agony that Jesus suffered. The real glory was the hurt and betrayal. Through this great darkness, Jesus learned obedience to His father, and He forever changed the course of history.

We pray for miracles, and we often find ourselves disappointed because they don't seem to happen. But could it be that we are simply looking in the wrong spot? Could it be that we pray for a miracle, and it comes in the form of more pain? Could it be that, through the darkness we experience, we are learning obedience, just like Jesus? Could it be that our character is slowly being shaped through the things that we suffer? Could it be that the real miracle does not come through the pain; it is the pain?

We will never get used to pain, because we were never designed to know it. We were made for something greater. But I believe that nothing is wasted in the hands of the Great Redeemer. I believe He is sculpting the very essence of who we are into who we will become. I believe in new beginnings. I believe in hope. I believe there is glory waking in each one of us, and I believe that it will come to life in time.

"And we all, who with unveiled faces contemplate the Lord's glory, are being transformed into his image with ever-increasing glory, which comes from the Lord, who is the Spirit." ~ II Corinthians 3:18
Powered by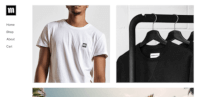 Create your own unique website with customizable templates.