Here are a few non-music projects that I have been working on lately.
Acoustic Guitar Build
Assembling the Body
To begin assembling the body, the pre-bent sides of the guitar were glued to the neckblock and tailblock. To prevent damaging the rosewood sides while they were clamped for gluing, I made clamping "cauls" from scrap wood pieces. I sanded the cauls to match the side curvature and then proceeded to glue the body together.
The next step was to install the soundhole rosette. The rosette for this guitar consisted of three herringbone strips. Channels were factory-routed in the spruce top, so I simply had to trim the rosette strips to fit and glue them into place. This sounds simple, however, it actually took quite a bit of time because this is a part of the guitar that defines the look of the instrument.
To glue the top and back of the guitar to the sides, notched strips of wood, called "kerfings" are glued to the edges of the sides in order to create a fastening edge. The kerfings were test-fitted and trimmed to fit and then glued to the sides. Clothespins were used to clamp the kerfings while they were being glued.
Soundboard Bracing

A fully-strung acoustic guitar experiences around 200 lbs of pressure from the strings at all times. Because of this, the guitar must be adequately braced to endure this stress. To install this bracing, I traced the bracing placements from the given blueprints onto the soundboard. Most of the braces were pre-shaped, but the main x-braces on the soundboard had to be carved by hand.
Back Bracing
The back of the guitar required a similar set of bracing. The bracing consisted of four main braces with flat strips running down the center of the back. A curved and notched gluing caul had to be made to keep the back braces in position and to facilitate the gentle curve of the back.
Putting the Body Together
After the bracing was completed, it was now time to construct the body. Though this was exciting, it was also terrifying, as any mistake could negate all of the work I had done so far. However, with some prayer and rubber bands, this process went quite well.
Powered by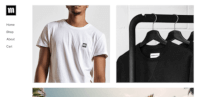 Create your own unique website with customizable templates.